As the waves beckon and the sun promises golden tans, a day at the beach is a summer staple. But a perfect beach day is more than just sand between your toes and a dip in the ocean.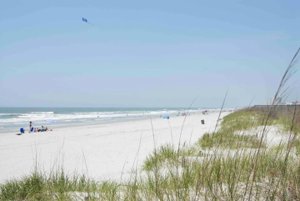 To ensure your seaside escape is as carefree as the coastal breeze, we've compiled a list of 10 beach essentials that you shouldn't forget to pack.
Sunscreen: The Shield Against the Sun

A broad-spectrum sunscreen with an SPF of 30 or higher is non-negotiable. Reapply every two hours or after swimming to protect your skin from harmful UV rays.

Beach Towels: Your Sand-Free Oasis

Opt for oversized, quick-dry beach towels for comfort and convenience. They double as a blanket for beach naps or picnics.

Swimwear: Dive in Style

Whether you prefer bikinis, one-pieces, or trunks, ensure your swimwear is both functional and fashionable. Don't forget a cover-up for walks along the shore.

Beach Bag: Tote Your Beach Day Essentials

A large, durable beach bag is essential for carrying your gear. Mesh designs are great for sifting out sand.

Sunglasses: Your Eyes' Best Friend

Protect your eyes with a pair of UV-blocking sunglasses. They're not just a style statement but a health necessity.

Beach Umbrella: Your Personal Shade

A portable beach umbrella provides a break from the sun, reducing the risk of overheating and sunburn.

Water Bottle: Stay Hydrated

Insulated water bottles keep your drinks cold and refreshing, ensuring you stay hydrated under the hot sun.

Beach Chairs: Seaside Comfort

Foldable and lightweight beach chairs allow you to relax by the sea in comfort, keeping you off the hot sand.

Beach Toys: Fun for All Ages

From sandcastle-building kits for the kids to frisbees and beach balls, toys are essential for entertainment.

Cooler: Fresh Food and Cool Drinks

A cooler with ice packs keeps your snacks fresh and your beverages chilled, perfect for a midday refuel.
Click Here To Find Your Myrtle Beach Essentials
Remember, the best beach days are those that are well-prepared. Pack these essentials, and you're ready for a day of sun, surf, and sand. Don't forget to leave the beach as pristine as you found it—always take your trash with you and respect marine life. Happy beaching!