There are so many enjoyable things to do in Myrtle Beach, South Carolina. People love the warm temperatures and white sandy beaches. Here are some of the Top Rated Attractions in Myrtle Beach, South Carolina.
Broadway At The Beach:
Numerous places to shop, dine and enjoy the nightlife. Restaurants include King Kong Sushi, Key West Grill, American Tap House, Jimmy Buffets Margaritaville, Landry's Seafood, Joe's Crab Shack, Yamato Steakhouse, Liberty Brewery & Grill & Hard Rock Cafe. There's also miniature golf & Theaters, such as Legends & the Palace Theatre. Nightclubs include Senior Frogs, Crocodile Rocks, Malibu's, Broadway Louie's, Good Time Charles & Fat Tuesdays. You can also get a little adventurous and play on the Ziplines or take a boat ride o
n the lake.
Ripley's Aquarium of Myrtle Beach:
Glide on 330ft moving path beneath the Dangerous Reef! TOUCH sharks, stingrays, hermit crabs & jellies! Experience a world of eels, colorful fish, mermaids & poisonous predators! NOW OPEN - PEARL HARBOR EXHIBIT! Ripley's Myrtle Beach offers 5 unique attractions open 365 days a year. Don't miss all the fun! Phone: 843-916-0888 |
Website
Myrtle Beach Skywheel:
If you want to get a great view of the City Of Myrtle Beach and Atlantic Ocean, you'll love the Myrtle Beach Skywheel. It's located in downtown Myrtle Beach along the Myrtle Beach Boardwalk. It has a fantastic, lively atmosphere and is a great place to visit. Phone: 843- 839-9200 |
Info and Videos
Myrtle Beach: People enjoy swimming, walking, and catching a tan on the beautiful white sandy beaches that line the coast.
Myrtle Beach State Park:
Myrtle Beach State Park sits nestled among Oceanfront maritime forest. A quiet, and surprisingly green, escape from the otherwise bustling beach, the park provides educational opportunities, a nature trail and some of the best
surf fishing South Carolina
has to offer as well as stunning ocean views and another great fishing spot on Myrtle Beach pier. As far as Myrtle Beach campgrounds go, the parks' is among the most popular, providing guests with Myrtle Beach pier and shoreline access as well as cozy sites tucked away under the towering trees. If the Myrtle Beach campgrounds aren't for you, overnight guests may also stay in one of six rental cabins, built by the CCC in the 1930s. Phone: 843-238-5325 |
Website
Myrtle Beach Boardwalk:
The boardwalk is made up of three sections.
North Dunes Walkway Section – The North Walkway extends from the Fifteenth Avenue North Park to Plyler Park at the foot of Mr. Joe White Avenue. It features a raised wooden deck and dune landscaping with vegetation which offers a serene, peaceful, and natural environment; a perfect beach experience. The walkway in this section is eight feet wide with connecting pathways to beach access points and adjacent accommodations and attractions.
South Promenade Section – The South Promenade continues from Eighth Avenue North to First Avenue North just south of the Second Avenue Pier. The South Promenade is a lineal oceanfront park with benches and natural landscaping. This section offers relaxing views of the beach and passive recreational opportunities. Main walkways are twelve feet wide, while secondary paths are eight feet wide.
Central Wooden Boardwalk Section – The high-intensity portion of the boardwalk extends from Plyler Park to Eighth Avenue North. This section adjoins beachfront stores and shops and invokes a carnival and nostalgia atmosphere with its sights, sounds, and energy with a more classic wooden Boardwalk surface. This section ranges from approximately 26 to 50 feet in width. Website
TicketReturn.com Field: Pelicans Ballpark is home to the Myrtle Beach Pelicans, Advanced 'A' Affiliate of the Chicago Cubs. The ballpark is located directly across from Broadway at the Beach and offers affordable family fun 70 nights a year! Group rates available for groups of 10 or more. Phone: (843) 918-6000 | Website
New South Brewing: A wide variety including Lagers, Ales, IPA's & more. Located at 1109 Campbell St, Myrtle Beach, sC 29577 | New South Brewing
Boat Tours:
People enjoy
Myrtle Beach Watersports
,
Island Adventure Watersports
,
Gator Bait Adventure Tours
,
Waccamaw River Tours
,
Downwind Sails Watersports
&
Living Large Party Barge
The Market Common:
Shopping, Dining, Movie Theatre, Mall, Walking, Walking, Outside Movies & Entertainment.
Other Popular Things To Do In Myrtle Beach
Carolina Paddle Company: Paddle Boarding. Lessons, Adventure Tours, Camping Excursions, Rentals, Retail, etc.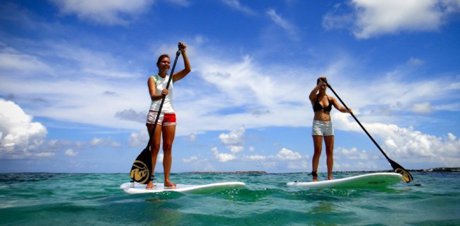 Prices vary and are all inclusive, per person. All instructors are First Aid and CPR certified. Phone: 843-443-5687 | Website
Myrtle Beach Safari: The Myrtle Beach Safari is a hands on interactive wildlife experience that can be had nowhere else on Earth! You will spend hours interacting with and experiencing wildlife while learning about the work being done to conserve them worldwide. Phone: 843-361-4552 | Website
Franklin G. Burroughs – Simeon B. Chapin Art Museum: The Museum is composed of the following: Six first floor galleries featuring rotating exhibits; Four second-floor galleries including the Grace Martin Matlock Education Galleries; The Art Studio, classroom space used for children's, adults' and family workshops; Simeon Chapin Art Resource Library; Reception Room with baby grand piano, used for receptions, concerts, lectures, displays and demonstrations; Carolyn Burroughs Tea Porch, an enclosed space for receptions and other events offering a breathtaking view of the Atlantic Ocean. Phone: 843-238-2510 | Website
Mount Atlanticus Miniature Golf: Mount Atlanticus Minitaur Golf is the one of the TOP miniature golf courses in Myrtle Beach with 36 holes of the best Putt-Putt at the beach. You will see unimpeachable evidence of a miniature golf island resort rumored to be 50,000 years old. They say it broke away from the sunken continent of Atlantis only to reappear in Myrtle Beach. The resort was designed by a minotaur named Goff. Come and you will see great views of the Atlantic Ocean from golf huts over 75 feet high. The 19th hole offers a "Lifetime Pass" to a hole-in-one shot. Phone: 843-444-1008 | Facebook Page
Backstage Mirror Maze:
Backstage Mirror Maze is a unique, new attraction the entire family can enjoy! At over 2,000 square feet, you will be challenged by infinite reflections, surprising corners, dead ends and continuous circles! A truly, mind-bending experience for all ages. Our kaleidoscope glasses will intensify the effects of the dazzling rainbow lights that will confuse and render you utterly lost. Phone: 843-712-1794 |
Website
Wonderworks: An amusement park for the mind with 50,000 square feet of "edu-tainment". The attraction combines education and entertainment with more than 100 hands on exhibits that challenge the mind and spark the imagination. Worderworks also features a zipline 50 feet above the water. Phone: 843-626-9962 | Website
Family Kingdom Amusement Park: There's just a special place in the hearts of families everywhere for that old-time warm, friendly amusement park by the sea. Family Kingdom features more than 35 thrilling rides. In 2013 we added four exciting new rides including the Twist 'n Shout steel roller coaster. And in 2014, we added the interactive bouncing on the Jump Around Dune Buggies, and the Magic Bikes. Of course, your favorites are ready and waiting. Hold on as the Swamp Fox wooden roller coaster takes your breath away at every turn, splash down on our Log Flume, free-fall 110 feet in our Slingshot Drop Zone, bounce a bit on our bumper cars or hit the Go-Kart tracks. And don't forget, Family Kingdom's Oceanfront Water Park, Splashes, is just across the street. Phone: 843.626.3447 | Website
Springmaid Pier:
Part of the Springmaid Beach Resort, the Springmaid Pier stretches 1,060 feet into the ocean. The pier holds the state record for Spanish Mackerel and hosts numerous fishing tournaments. The pier's Barnacles Bar & Grille offers tasty food and drinks in a casual atmosphere. The kids will especially enjoy the hand-dipped ice cream! Phone: 843.315.7156 |
Website
The Hollywood Wax Museum: The Hollywood Wax Museum is a landmark in Myrtle Beach and a highlight of Broadway at the Beach. At the intersection of Highway 17 Bypass and 21st Avenue in Myrtle Beach, Hollywood Wax Museum is the only wax museum in the country devoted entirely to celebrity figures. The two-story Museum will bring Myrtle Beach tourists and locals into the world of Hollywood Stars and allow visitors to get close to some of the most famous people in show business, recreated so faithfully that you'd swear they were alive. Hollywood Wax Museum houses tons of uncanny replicas, lending themselves to fun photo opportunities for guests. If you're waxing for fun things to do in Myrtle Beach, SC this summer or if you're visiting the beautiful Grand Stand any time of year, the Hollywood Wax Museum
is a must-see. Phone: 843-444-0091 | Website
Nightmare Haunted House:
Established in the mid 1980's, this mysterious dark attraction continues to horrify tourists and locals alike. Beyond these weathered doors resides the very place in your worst nightmares where evil dreams become stark reality. This is the place where horror plays hide-and-seek with the reluctant dreamer. In and out of total darkness, you find yourself shivering with terror. The morbid,raspy giggle of a zombified clown. The twisted whispers of the side-show freaks leaves you unsure of the source…You can't be sure what lurks ahead or behind…Above or below. Suddenly your blood runs cold as you realize you're not sure if you will ever see the light of day once more. Phone: 843-602-4813 |
Website
Myrtle Beach Convention Center: 250,000 sq. ft convention center is one of the largest on the East coast, and our exhibit hall is 100,800 square-foot, column-free and is divisible into three sections. Exhibit Hall C features telescopic seating for 2,500 plus making it ideal for general sessions and large assemblies. Thirty-five foot ceilings in the exhibit hall can accommodate most any exhibit or production company's needs. Eleven dedicated docks and drive in access to each hall. Meanwhile, our 17,000-square-foot ballroom is a showcase of design and functionality, hosting spectacular catered presentations running the gamut from breakfasts to seven-course extravaganzas. Phone: 843-918-1225 | Website
Myrtle Beach Welcome Center: Visitors to the area are served by three conveniently located Welcome Centers: in central Myrtle Beach, on the South Strand, and at Myrtle Beach International Airport. At all three centers, friendly staff members greet visitors, answer questions, offer directions, and distribute maps, brochures, event listings, coupons and more. As an added service, each office is equipped with a Text Telephone (TTY) system, which makes calls possible to and from people who are hearing impaired. Phone: 843-626-7444 | Website
Wacatee Zoo: Waccatee Zoo is located within 500 acres of private, carefully preserved, wooded property. Along winding trails, beneath shady trees you'll find thousands of animals and over 100 species that are all treated like family. This zoo receives no state or government funding, just lots of T.L.C. Located where the Waccamaw River, Intracoastal Waterway and Socastee Creek Join, Waccatee Zoo is a natural wildlife sanctuary and breeding ground for many species of migratory birds. Phone: 843.650.8500 | Website
Children's Museum Of South Carolina:
Interactive exhibits and programs where visitors can touch, explore, and play while learning about their world. Located directly across from the Myrtle Beach Convention Center in the same building as Office Depot. Phone: 843.946.9469 | Website
Ripley's Believe It Or Not: Stroll through exhibits and see over 500 amazing and strange oddities from real shrunken heads to Transformers make of car part SEEING IS BELIEVING. Phone: 843-448-2261 | Website
Ripley's Haunted Adventure:
The only place in Myrtle Beach where you'll find shrunken heads, a 8ft tall Transformer sculpture made of scrap car parts, an authentic vampire killing kit, one-of-a-kind artwork, tons of hands-on interactives, and a wicked spinning vortex tunnel! Phone: 843-916-8971 |
Website
Myrtle Waves Water Park: Make a splash at South Carolina's largest water park with 22 slides and attractions and 1.2 million gallons of family fun. Relax by the wave pool, rent a private cabana, splash on exciting slides, raft rides or kiddie play areas. Perfect for groups and birthdays, too! Phone: 843-913-9250 | Website
Splashes Water Park:
Family Kingdom's Oceanfront Water Park has a new name: Splashes. Located on the beach, Splashes is the perfect place to take a break from the sun and sand. Feel the thrill of speeding down a water slide or simply relax as you drift down the cool, refreshing water of the lazy river. Splashes has wet and wild water flumes (over 100′ drop), exhilarating speed slides, intermediate speed slides and a spacious 425′ long lazy river with waterfalls.
Phone: 843-916-0400 |
Website
Shopping
The Tanger Outlets
Phone: 843-449-0491